Biolight Brightening Sheet Mask - 12 app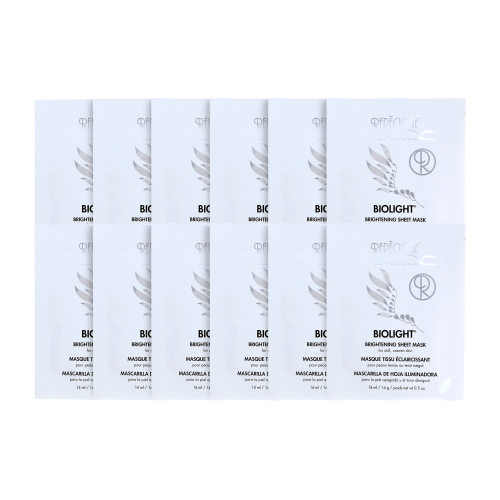 Item code:
RPBLSMS
Brand:
Repechage
Product Type:
Face
Size or Pieces:
12 sheets
Product Line:
Biolight
Availability:

Available

Free Shipping
Quantity:
Description
The Repêchage® Biolight® Brightening Sheet Mask goes beyond brightening, utilizing the latest biotechnology, including Alpha Arbutin and Diglucosyl Gallic Acid combined with exclusive Repêchage seaweed extracts. This easy-to-use sheet mask helps skin look brighter, more refreshed and ageless, lessening the appearance of uneven skin tone and dull sallow skin. Skin will look and feel smoother, with a more refined texture. Use once or twice a week to help brighten the appearance of the skin, restore moisture, before a special event, or in the morning before makeup. Always follow with Repêchage® Mineral Face Shield®.
Apply daily under BIOLIGHT™ Daytime Protection Cream.
HOW TO USE

Directions:
(1) Wash face with a cleanser suitable for your skin type.
(2) Tear open packette, unfold mask and apply directly onto face.
(3) Once mask is in place, peel off plastic top at the notch and discard.
(4) Adjust mask to fit tightly to the contours of your face and leave on for 10 - 15 minutes.
(5) After proper time has elapsed, remove mask, but do not rinse. Follow up with appropriate Repêchage® serum and moisturizer. Use it day, night, when traveling or during sleep.

KEY INGREDIENTS

Laminaria Digitata
Our proprietary blend of these EcoCert seaweeds. Natural sources of 12 vitamins including B12, C, E, K and Beta Carotene, 18 amino acids, and 42 trace elements. Essential fatty acids help maintain the skin barrier while Alginic Acid – a polysaccharide – helps to lock moisture into the skin.

Ascophyllum Nodosum Extract
Extracted from a brown seaweed, rich in vitamins, minerals, amino acid, fucoidan and algininc acid.

Alpha Arbutin
A new active ingredient in powder form known to help brighten the appearance of uneven skin.

Oxidized Glutathione
A molecule found naturally within the skin that is known to play an important role in preventing oxidative damage. This ingredient has been found to help lessen the appearance of uneven skin tone.

Diglucosyl Gallic Acid (DGA)
More potent than Vitamin C and Kojic Acid, this ingredient is known to help restore a perfect-looking complexion while it helps even the appearance of the skin tone.

Centella Asiatica (Gotu Kola) Extract
A plant known in Asia for its benefcial effects, helping to reduce the appearance of visible signs of aging.

Glycyrrhiza Glabra (Licorice) Root Extract
Ingredient known for brightening the appearance of the skin.

Salix Alba (White Willow Bark) Extract
Extracted from the White Willow Tree (Salix Alba). Known to help with mild exfoliation of dead skin cells to reveal a more youthful-looking complexion.

Sodium Hyaluronate (Hyaluronic Acid)
Extremely moisturizing to the skin. Natural moisturizing polysaccharide present in the skin. Is known to hold 100x its weight in water.

Carrageenan
Derived from red algae known as Irish Moss (Chondrus Crispus), Carrageenan is a gel with excellent emollient properties.

Sodium Ascorbyl Phosphate (Vitamin C)
A stabilized form of Vitamin C known to help brighten skin's appearance.