I started taking an interest in the Beauty Industry World when I started doing waxing sessions at the age of 13.  From that age I started  dreaming of owning my business and advising people on how to feel and look better.  I got my Cidesco certificate and my journey started taking shape. I opened my own salon in 1995 and a year after I started importing my first Cosmetic brand- REPECHAGE.  I discovered this amazing brand at a London Beauty Fair which I attended with my mother who was always very encouraging and supportive.  They had the most beautiful stand and they offered to do a 4-Layer facial on my mum … we both got hooked and came back to Malta loaded with professional kits and products to experiment on my clients… REPECHAGE is still going strong and remains one of the top brands in the market.

NEODERMA was my second brand.  I fell in love with this company when I went to Greece for a seminar on beauty trends and after going for training to Cyprus I started introducing this brand not just to my clients but also to other beauty salons.  I started training salons and therapists and eventually NEODERMA gained momentum which meant that I did not just have a resposibility towards my salon clients but also towards my fellow therapists.  Due to the increase in demand in 2007 I decided to become a full time distributor which enabled me to concentrate my time and energy on finding the best and most innovative treatments for the Maltese market.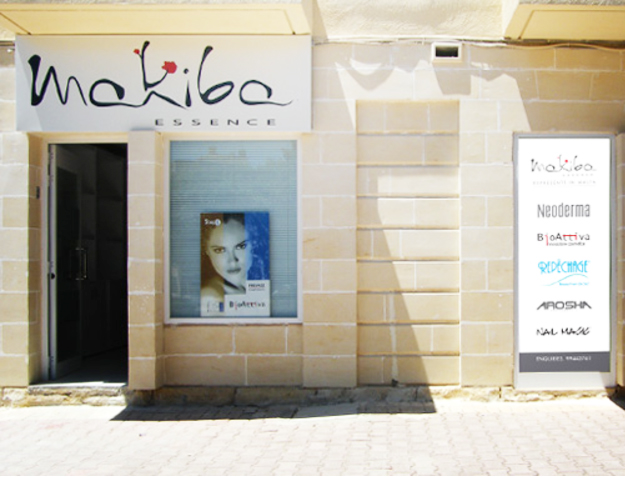 During another beauty fair in 2012 I was introduced to BIOATTIVA cosmetics, a very young and professional company that complimented my other two brands.  BIOATTIVA has a very modern approach in the beauty world , they produce beauty treatments which are innovative and different, they use biotechnology and their ingredients are the latest discovery. They also offer very advanced massage techniques that compliment their various facial treatments.  BIOATTIVA cosmetics offer our clients an alternative method to the conventional way, thus keeping us motivated and well trained.
Makiba Essence was created in 2013 and our Centre is located in Sta. Lucia ... a training centre, office and store. We are a very good team of dedicated and professional girls who are passionate in what we do, we love the products we work with and are always enthusiastic to learn and divide our knowledge with beauty therapists.  Analise Micallef is our sales representative.  She deals with all our clients and has the ability to stay calm even in the most trying of situations. She started with Makiba Essence seven years ago and is very dedicated and precise. Karin Fenech is our trainer, she is a huge fan of all that is Makiba Essence.  A very professional and passionate beauty therapist with 19 years experience, of which the last 16 years were with Makiba Essence brands . She is the best teacher any beautician can hope for, very patient and knowledgeable. 
Makiba Essence will continue to teach beauty therapists how to be the best in what they do, to treat their clients in the most professional way and to value more their profession and their expertise. Most of all we guarantee that they will continue to find the most professional and innovative beauty products in the market.
Ingrid Coleiro