HYDRA DEW FACIAL MOISTURIZER - 50ML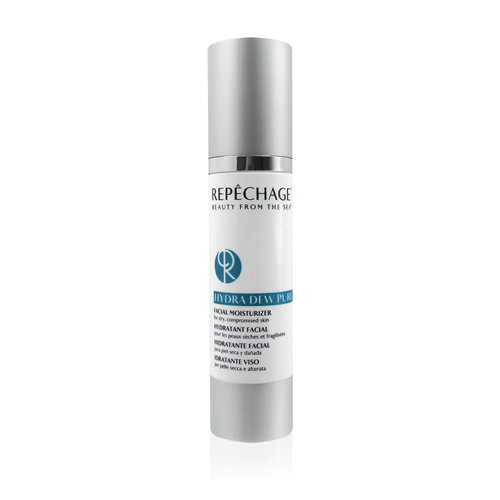 Price:

€

59,30

VAT included (18%)

Item code:
RPHDM2
Brand:
Repechage
Product Type:
Face
Size or Pieces:
50ml
Product Line:
Hydra Dew
Availability:

Available

Free Shipping
Quantity:
Description
Clinically proven to show a 45% increase in skin smoothness in 28 days*.
Envelop the skin in rich moisture and create an instantly dewy complexion with this multi-action facial cream. Three select Seaweed extracts combined with Hexapeptide and Hyaluronic Acid help reduce the appearance of wrinkles, while Camellia Japonica Seed Oil helps replenish and seal in moisture as it helps promote the appearance of skin elasticity. Use daily to help skin look and feel resilient, dewy, radiant and glowing.
Ingredients:

Mastic Oil
Known as the "Tears of Chios," Mastic or Mastiha is a precious, ivory-colored resin with a balsam-like scent derived from the mastic tree known scientifically as Pistacia lentiscus. Although cultivated in other areas, it is the mastic trees in the southern tip of an island in the Aegean that is most legendary. There, in the twenty four "Mastichohoria," or mastic producing villages, mastic resin is harvested in the same way it has been for thousands of years, protected by the tall walls of the medieval fortresses.

This ingredient is known to help strengthen the appearance of the skin barrier and to instantly help reduce dryness while helping reduce the appearance of lines and dark spots.

Repêchage® Laminaria Digitata Seaweed Filtrate
At the heart of the Repêchage® products is our rich, pure, sustainably-harvested and proprietary Laminaria Digitata Seaweed Filtrate. This pure Seaweed Filtrate contains 12 vitamins, 18 amino acids, 42 trace elements and minerals, and phlorotannins—the key elements your skin needs for deep surface hydration and balance.

In addition, this seaweed is a source of many important nutrients, including polyunsaturated fatty acids, enzymes and bioactive peptides. Among marine resources, it is also one of the richest sources of phlorotannins, sulfated polysaccharides, fucosterol and fucoxanthins.

Organic Cannabis Sativa Seed Oil
This oil derived from the Hemp seed does not contain the same levels of compounds as the plant itself, but is rich in nutrients and fatty acids. These essential fatty acids are known to help to maintain the skin barrier while moisturizing and helping improve the appearance of the skin.

Camellia Japonica Seed Oil
Also known as Tsubaki oil, used for centuries in Japan, this ingredient is known to help strengthen the appearance of the skin barrier while it helps prevents moisture loss.

Codium Tomentosum Seaweed Extract
A type of seaweed that is known to help increase moisture. It hydrates, nourishes and is a powerful antioxidant.

Sodium Hyaluronate (Hyaluronic Acid)
A natural moisturizing polysaccharide prevalently found in the skin that is known to hold 1000X its weight in water.
The customers that have purchased this product, have also chosen these items