HN SEA SALT & SANDALWOOD BODY LOTION 535ML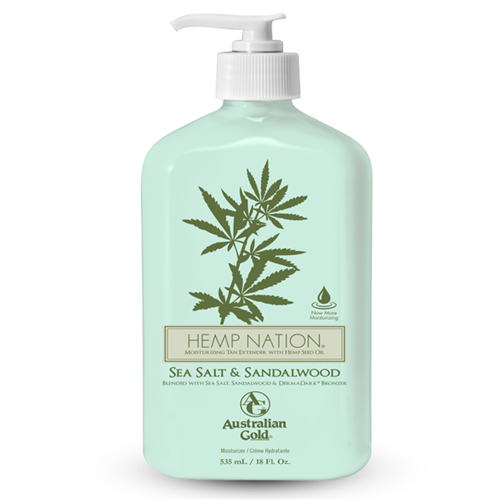 Price:

€

32,90

VAT included (18%)

Item code:
AGSSS
Brand:
Australian Gold
Product Type:
Body
Size or Pieces:
535ml
Availability:

Available

Free Shipping
Quantity:
Description
A nourishing, moisturising Tan Extender, for use after exposure to UV light or as an everyday moisturiser.
DermaDark® has been added to this Tan Extender to provide a streak-free, gradual colour development, ensuring your tan lasts longer without the need for UV light.
Sea Salt uses 92 minerals to attract moisture to the skin and keep you deeply hydrated, whilst Sandalwood soothes and softens skin, keeping skin looking and feeling healthy.
The Hemp Seed Hydrating Complex uses a decadent blend of Hemp Seed Oil to balance skin tone and nourish skin. This is combined with a luxurious HydraRich Blend - a combination of Jojoba, Shea Butter and Glycerin - for superior hydration that deeply penetrates to provide longer-lasting moisturisation. The essential Fatty Acids in this Blend also work as a barrier, protecting skin from environmental stresses.
The combination of moisturising ingredients ensure this Tan Extender absorbs into the skin quickly and provides supreme 24 hours hydration for deeply moisturised, longer-lasting colour.
Vitamins E and B3 and microspheres are added to this lightweight formula that leaves skin feeling silky smooth. These Vitamins also offer natural protection against the skins of ageing and diminish the appearance of fine lines and wrinkles.
Fragrance: Sea Salt and Sandalwood
Size: 535ml
Top Tip: The DermaDark® Bronzer in this Tan Extender will develop your colour further with or without exposure to UV light. This is also ideal for male tanners due to the unisex fragrance.
The customers that have purchased this product, have also chosen these items