BOTANICAL SPF50 TINTED FACE LOTION 88ML FAIR TO LIGHT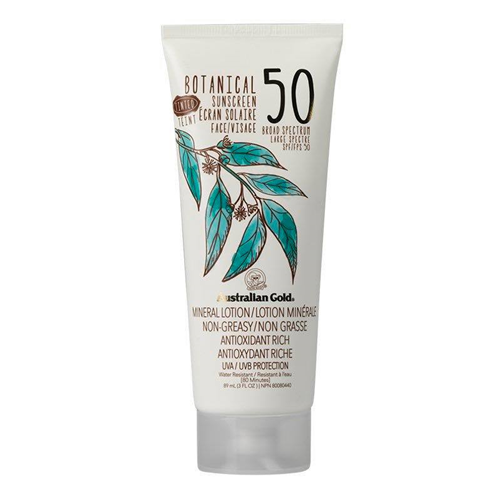 Price:

€

38,70

VAT included (18%)

Item code:
AGB50T
Brand:
Australian Gold
Product Type:
Face
Size or Pieces:
88ml
Availability:

Available

Free Shipping
Quantity:
Description
One of Australian Gold UKís all-time best-selling products.
Not only is Botanical SPF 50 Tinted Face Lotion the perfect facial sun protection due to itís non-chemical, mineral base, but thanks to itís matte finish and gentle tint, it can also be used both underneath make up and as a BB cream.
This tinted mineral lotion is gentle on delicate skin. The subtle tint seamlessly blends into any skin tone, improving complexion by minimising the appearance of uneven skin tone and fine lines and washes away with water.
Whatís more, the incorporation of Red Algae provides skin with antioxidants Vitamins A & E as well as Iron, Folic Acid and three Amino Acids, providing not only great sun protection but also high-quality skincare.
Great sun protection for anyone looking to keep skin healthy and nourished whilst on the go. UVA and UVB protection, water resistant for up to 80 minutes, hypoallergenic, sulphate-free, dye-free, gluten-free and not tested on animals. Australian Gold Botanical: Using natural and exotic ingredients, this new line of sun creams are hypoallergenic, PABA and Paraben free.
Kakadu Plum: A native Australian fruit which is a great antioxidant and is very high in Vitamin C. It helps to mitigate damage caused by sun damage and free radicals.
Mineral Sunscreen: Titanium Dioxide and Zinc Oxide are non-chemical powder sunscreens that create a natural protective layer on the skin and eliminate any oily after-feel
Native Australian ingredients: Kakadu Plum and Eucalyptus work to boost the efficacy of sunscreen to protect against free radicals and calm skin
Red Algae: Highly nutritious Seaweed that provides the skin with Vitamins, Amino Acids, Protein and Iron for hydrated, soft skin
Microspheres: Specially designed silica microspheres ensure lotion dries quickly while leaving behind a natural, silky finish
Eco Conscious Formulation: Paraben Free, PABA Free, Sulfate Free, Alcohol Free, Dye Free, BPA Free, Reef Friendly, hypoallergenic and not tested on animals.
Broad Spectrum
SPF50
Fragrance Free
Australian Goldís Botanical SPFsí packaging is also designed to use as few materials as possible in a recyclable container. This reduces any potential waste making this perfect for the eco-conscious.
Top Tip: This product is not only great for holiday, but also as an everyday facial sun screen! Its natural ingredients will nourish and care for your skin.
Fair to Light Skin Tones