ACCELERATOR EXTREME 250ML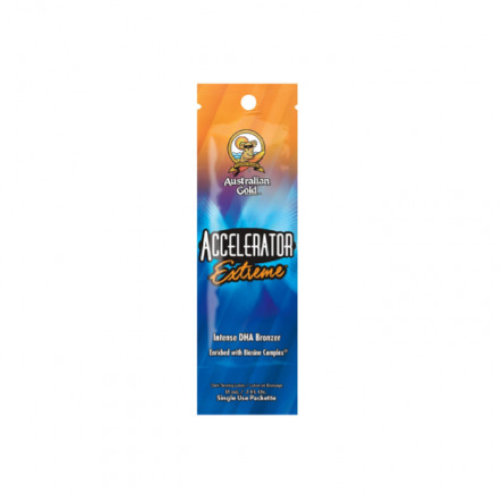 Price:

€

3,91

VAT included (18%)

Item code:
AGAE15
Brand:
Australian Gold
Product Type:
Body
Size or Pieces:
15ml
Availability:

Available

Free Shipping
Quantity:
Description
Do you like our iconic Accelerator but want to try something with bronzers? This Accelerator twist has been supercharged!
Like Accelerator, this lightweight lotion uses our signature Biosine Complex®, - an advanced combination of Tea Tree Oil, Olive Oil and Panthenol which soothe, soften and moisturise, - allowing your natural pigmentation process to tan you faster and darker. It is also enriched with Vitamins A and E, this lotion helps to soften and nourish skin for a strong, yet silky smooth tanning canvas.
However this lotion has been upgraded with Echinacea Extract, which provides powerful antioxidant properties which help to condition skin for an overall improved appearance. Natural Oils, Aloe Vera and Vitamins also combine to moisturise for a hydrated glow.
Intense DHA has been blended with Natural Bronzers to provide instant colour results and a darker, longer-lasting bronze for those looking to deepen their tan.
Fragrance: Classic CocoaDreams
Size: 15ml
Top Tip: This is the first time that DHA has featured in the Accelerator lotion.