ACCELERATOR DARK TANNING 15ML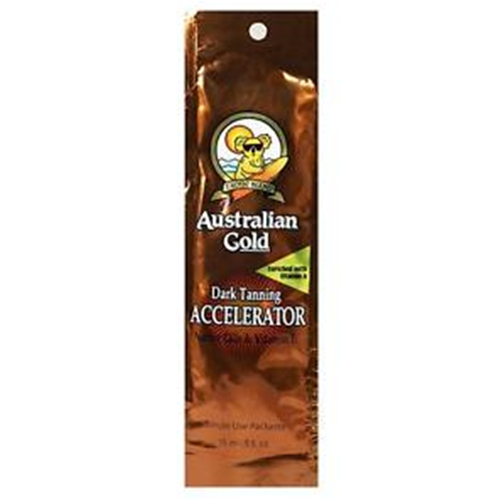 Price:

€

3,91

VAT included (18%)

Item code:
AGA15
Brand:
Australian Gold
Product Type:
Body
Size or Pieces:
15ml
Availability:

Available

Free Shipping
Quantity:
Description
Accelerator has been our #1 tanning lotion and one of the top-selling lotions in the entire tanning industry for over 30 years now! This lightweight lotion uses our signature Biosine Complex®, - an advanced combination of Tea Tree Oil, Olive Oil and Panthenol which soothe, soften and moisturise, - allowing your natural pigmentation process to tan you faster and darker.
Native Australian Oils help to condition skin for a gorgeous glow and ensure this lotion is quick-absorbing into the skin. Tea Tree Oil also works to prevent after-tan odours from occurring, leaving you feeling and smelling fresh after you tanning session.
Enriched with Vitamins A and E, this lotion helps to soften and nourish skin for a strong, yet silky smooth tanning canvas.
Accelerator contains no Bronzers, meaning that the tan you build will be created purely by your natural pigmentation and melanin.
Fragrance: Classic Cocoa Dreams
15ml sachet
Top Tip: Accelerator has won numerous non-bronzing tanning lotion awards, making it a global favourite.